Contact information
TEL.

031-821-9949

10:00~17:00 Closed on weekends and holidays
individual
Group
Other Sports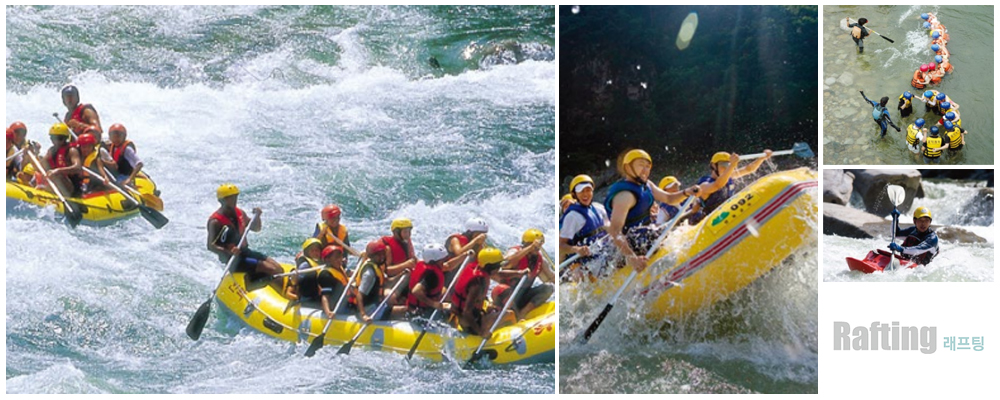 If you want to blow away the stress accumulated in your daily life, you should put your backpack right now and head for Inje Naerincheon. You can feel the freedom as if you were going back to childhood when you paddle your way against the rough water of the valley, shouting with excitement in the breeze of the cool, open nature. There is an adventure that is always wriggling in our deep places. Rafting, which allows us to feel the rough breath of nature, is nothing short of reminding us of our primitive instincts. In addition, with friends and colleagues to breathe with the rock to avoid the roughness of the rush to go through the naturally you can feel a solidarity. Rafting is a leisure sport perfectly suited to modern people, holding all the soulful minds, strengthening relationships with colleagues, and tightening their muscles more tightly.
The basic course of Naerinchon is about 8km from Won Daegyo to Bamgol Camp. It is one of the best clean areas in Korea and it is considered to be the best place for rafting by the river because the area of ??the river is long and the speed and slowness of the flow are exquisitely repeated. It is also characteristic of this course that you will meet rough rapids soon after you leave Won Daegyo. The highlight of the course is the Piashi Rapids area, which meets after midway. This point forms a continuous stream of 700m or so, and it is inevitable that there will be a rougher rapids and a face-to-face match, as if the boat is picked up. It takes about two hours to get to the Bamgol camp, which is the final destination, but it will be filled with excitement, so you will not know how the time has passed.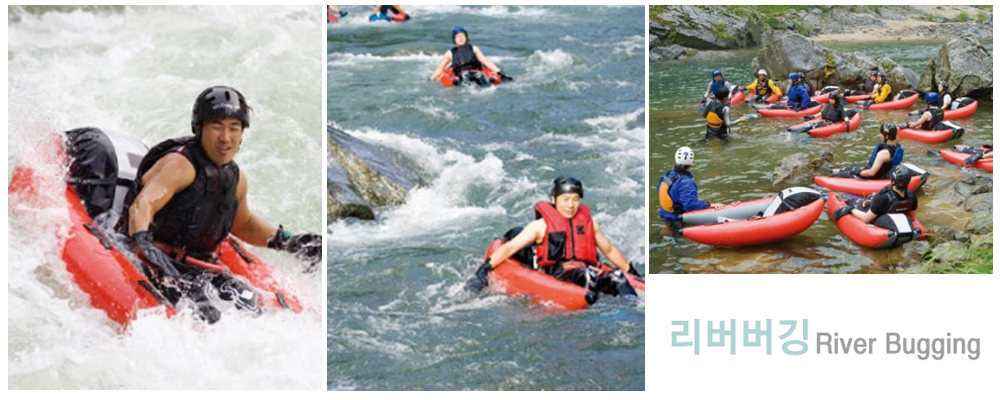 It is a leisure sport designed to enjoy rafting by the power of alone. It is equipped with a "Riverbug" developed in New Zealand. It is equipped with the features of a tube and a boat. When wearing a 'river bug' and using your arms and legs to navigate through the rapids, you will be filled with a loud bangs that will confront the vast force of nature. It does not require training like a kayak, so after a brief training, everyone can safely enjoy the thrill of rafting.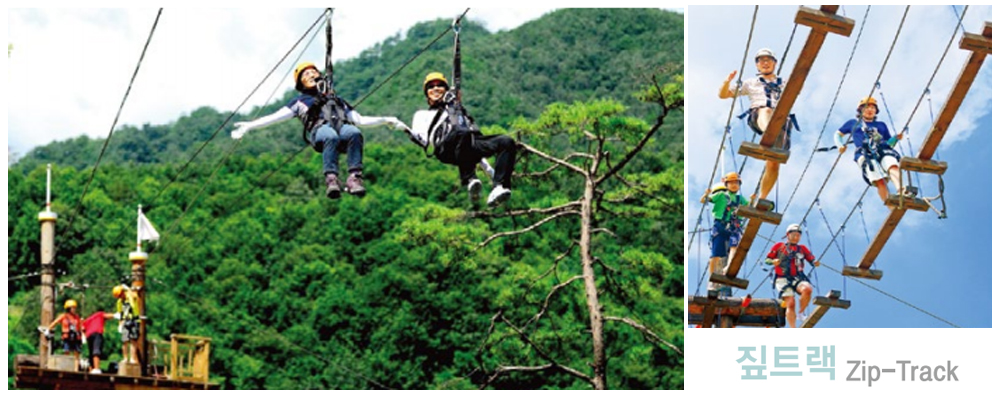 The zip tracks are aerial lap tops that are fastened on both sides with a sturdy wire between them with a trolley tool. Inje zip track has three courses including 'Experience', 'Adventure' and 'Challenge'. Anyone who is both young and old can challenge by wearing equipment and brief explanations. The thrill of crossing a wide river over the rough water of the bottom of the mountain is not inferior to anything else. In addition, the fresh wind that rushes over the face while crossing the river makes it feel better, so it is no different than a forest bathing in clean nature. Let's take a good view of the scenery at a glance, rather than seeing it as scary. It will be an important moment to leave with precious memories.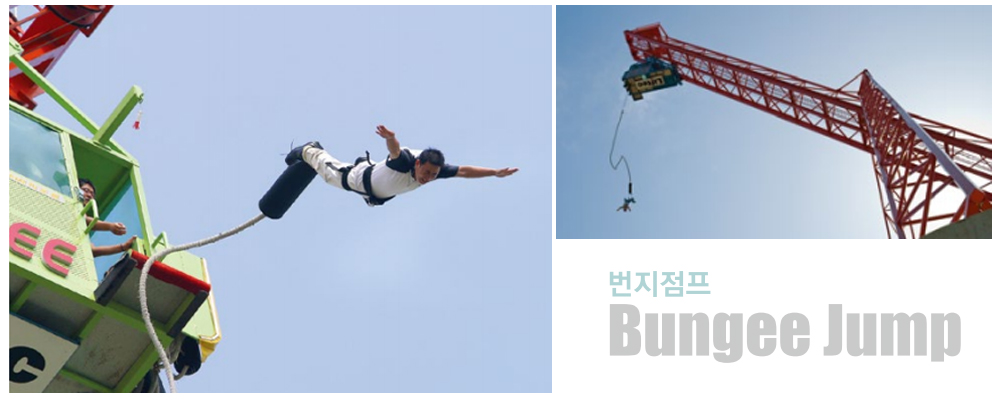 The bungee jumping facility in the lower alleys downstream of the Naerincheon is 63m, the highest in Korea. The structure is also built with the technology of world-famous Australia's Bungee Vix, so safety is reliable. Once you get to the summit, you can get a glimpse of the peaceful scenery of the Naerincheon area. There is no mind to appreciate the idyllic landscape, but nature will be a wonderful backdrop to the moment we challenge. You can enjoy a feeling of unlimited liberation as if you are a bird by jumping from fear and springboard to the air.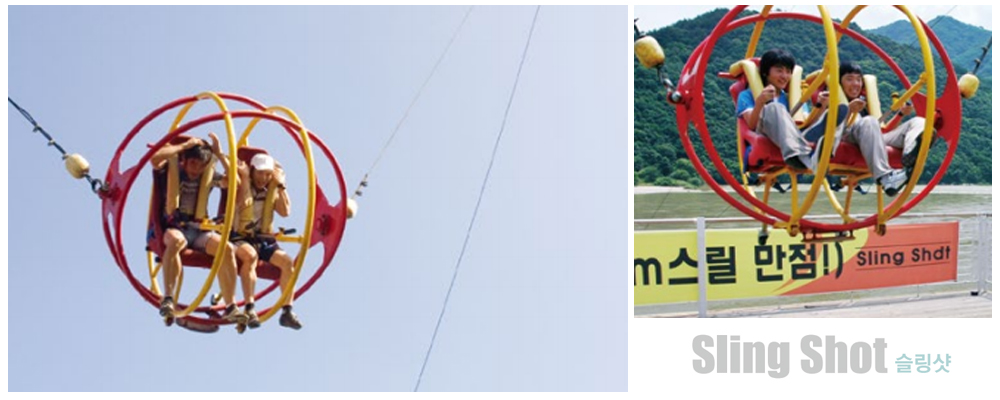 Sling shots are laports that rise up from the ground to the air as opposed to bungee jumping. It is designed in the pilot 's emergency escape mechanism and is similar to the principle of slingshot. It seems that the rounded equipment that two people are supposed to sit together seems to be easier than the bungee jumping at first, but once started, the speed is fast enough to reach 45m in 2 seconds. In the air, it rotates repeatedly many times, and it bursts out toward the sky. The feeling of exhilaration is attractive enough to be compared with bungee jumping.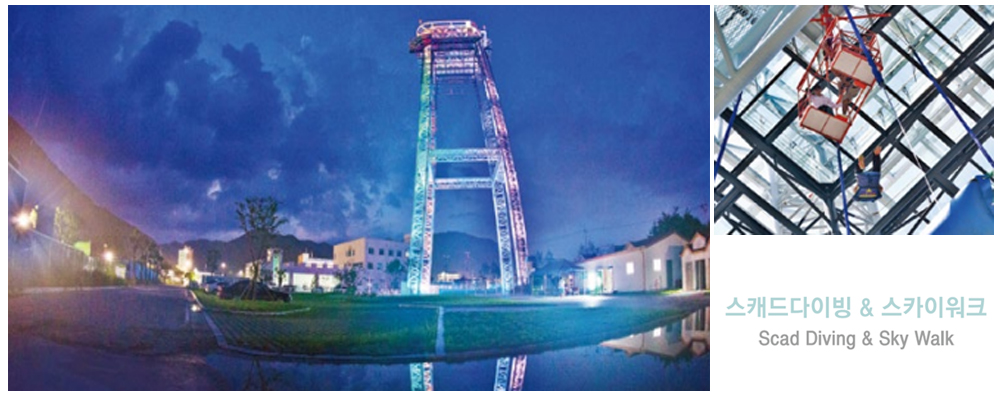 Inje, a 'heaven of adventure raptors', has recently introduced a new specialty. This is the scad dive built in Inje Narsha Park. Scad diving is a new type of leisure sport that has been developed and operated for the first time in Germany, and its reputation is widespread and is now widely recognized worldwide. Once you have worn safety equipment called "harness", you can go up to 50m above and free-fall from it and rest on a double safety net installed 25m above the ground. It is as easy as a bungee jumping, and it is easy to use because it can come down freely when landing. There is one more challenge to challenge Inje, so there is one more happiness to worry about what to choose.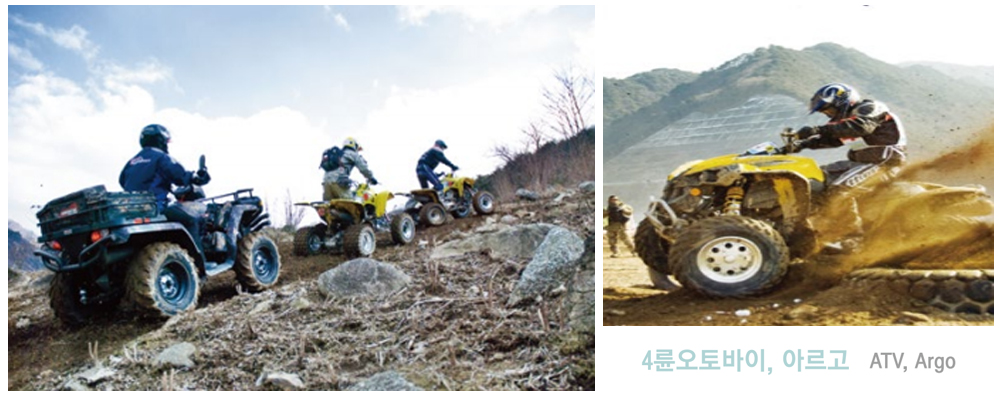 You can feel wild field full of blues running along the unpaved road along the four-wheeled motorcycle. It's not bad heavy vibration and loud mechanical noise from the engine. It is also called a mountain motor-bike, meaning that it can run any tough road, and it boasts tremendous power despite its small body.
Argo is an amphibious off-road four-wheeled motorcycle that adds water-running capability. Because it is amphibious, it can be used as a fishing boat for rivers and lakes. Argo's advantage is that you can go anywhere you like whether land or water.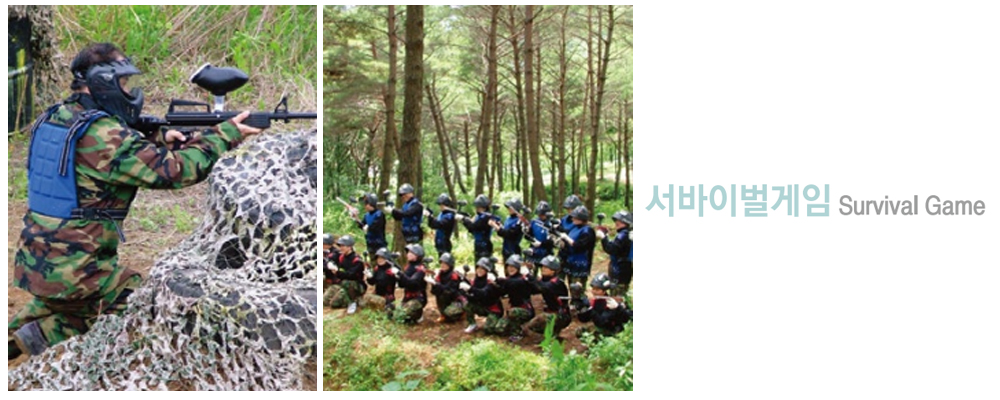 The survival game began as a recreation of veterans' battlefields in commemoration of World War II, and as equipment and rules became more sophisticated, it became a leisure sport. It is like a mock battle that everyone tried in childhood, so once you get into a game, you can bring back your old memories as if you were back in a concentric world. In addition, you can enjoy the natural forest bath while playing survival game.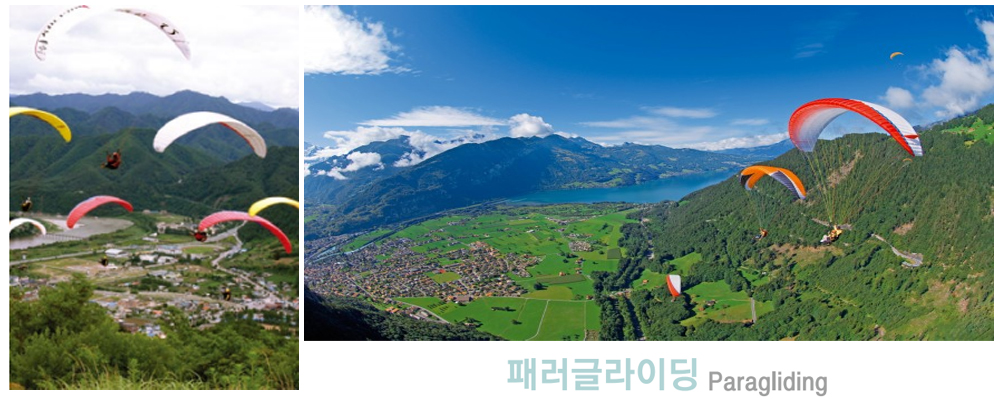 When you climb Mount Jyurong in Inje, there is a flying base that can climb into the sky by paragliding. It is fascinating to sight seeing the beautiful nature of Inje from sky. This place is operated by a club, so it is not possible to experience the general public, but if you are interested, it would be good to contact the club and join.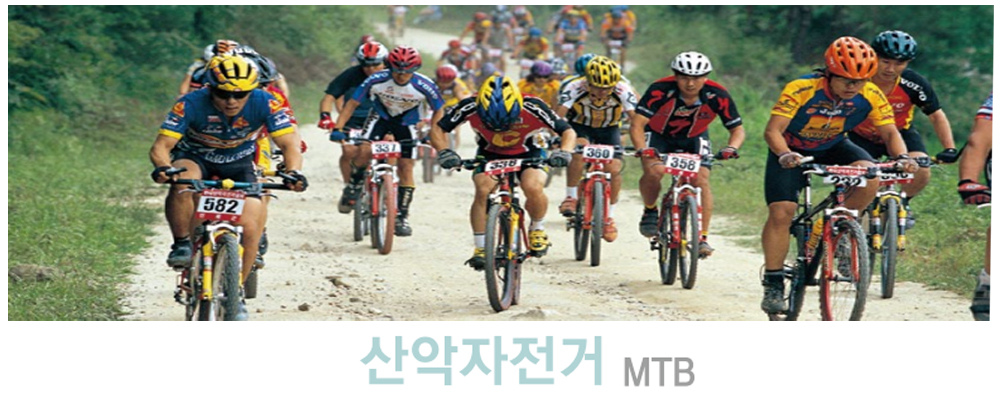 Inje has a lot of fun to ride in a car with only one bicycle. It is a course that ride along the forest roads from Daaamsan, Eongbongsan, and Bangtesan, and the 31st national way route from the upper stream to the lower stream of Naerincheon. Among them, the original course around the Naerincheon is a typical bicycle course that captures the viewers of the unseen scenery of Mt. Moreover, there are several courses depending on difficulty and distance, and you can choose and enjoy it according to your fitness and preference. In addition, each course is connected to each other, so you can ride with flexibility.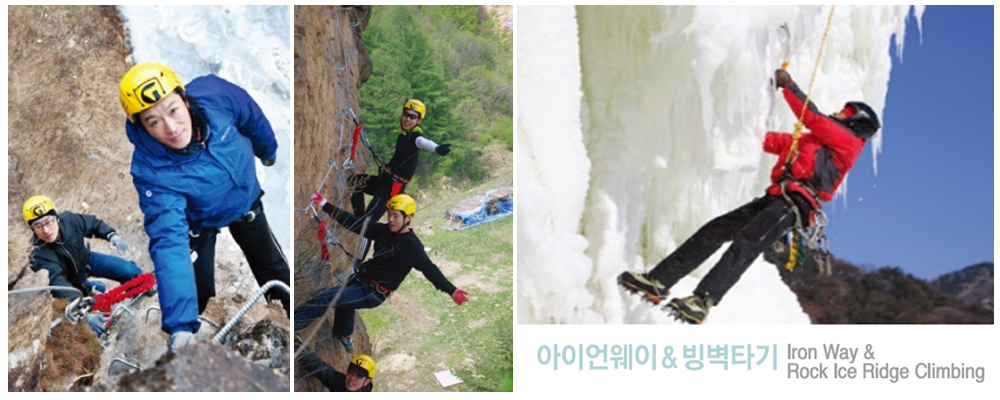 The waterfall is pouring vigorously from the 98m high cliff. It is a famous spot of Inje, a place where admiration comes from the view. There are many people who enjoy the Iron Way here. Iron Way is a mountain route that can climb a rock by a metal scaffolding and a fixed cable. Just like a professional mountaineer, you can feel exhilarating pleasure whenever you take a step forward. Moreover, you can enjoy a more exhilarating sense of reality by falling down to the waterfall from the back. There is also a course for beginners, so it can be enjoyed easily by anybodys. When winter comes, the rock wall Mae freezes and turns into a huge ice wall. From this time on, you can see those who wear crampons and climb the ice wall. Those who climb the wall in cold weather will be envious of challenge.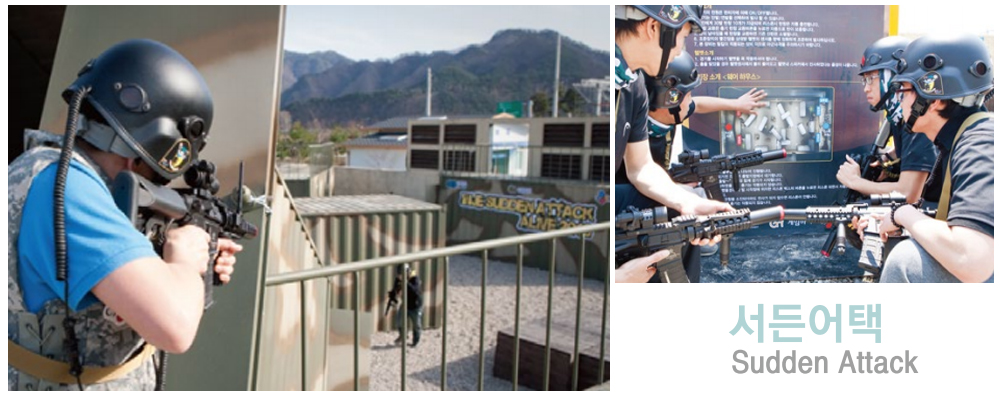 How would you feel if you were able to reproduce the game you enjoyed on your computer in real life? It can be confirmed at the Sudden Attack Stadium in Inje Narsha Park. The basic configuration of Sudden Attack, which has become very popular online, has been transferred into the game room. The game field also reproduces the popular map of Sudden Attack. The game is divided into a red team and a blue team, and a helmet with a laser gun and laser sensor is carried on the game. If you play and hide in your body using the facilities in the stadium, you will be fascinated by the game full of excitement.